The Vattenfall way towards a fossil free future
On the 22nd May 2019, Vattenfall welcomed technical representatives from all over the district heating industry to discuss the opportunities and challenges of engineering solutions that offer decarbonisation of heat.
Building energy systems capable of transitioning to fossil free
District heating networks offer an ideal solution for integrated smart energy systems. For a long time, what has made district heating networks low carbon is the ability to collect heat that would otherwise be wasted in electricity generation (typically from gas plants) and use it to provide heating and hot water demand. As the electricity grid is becoming decarbonised, more viable and future proof decarbonisation opportunities for heat can be provided.
The Vattenfall engineering solution is to provide systems that a) enable harvesting of available waste heat and b) allow the best utilisation of electricity system integration. Depending on project-specific conditions and installation time our solution may vary, however, here are a few examples.
As a minimum Vattenfall will seek to install 4th generation district heating solutions for areas with mainly heat demand.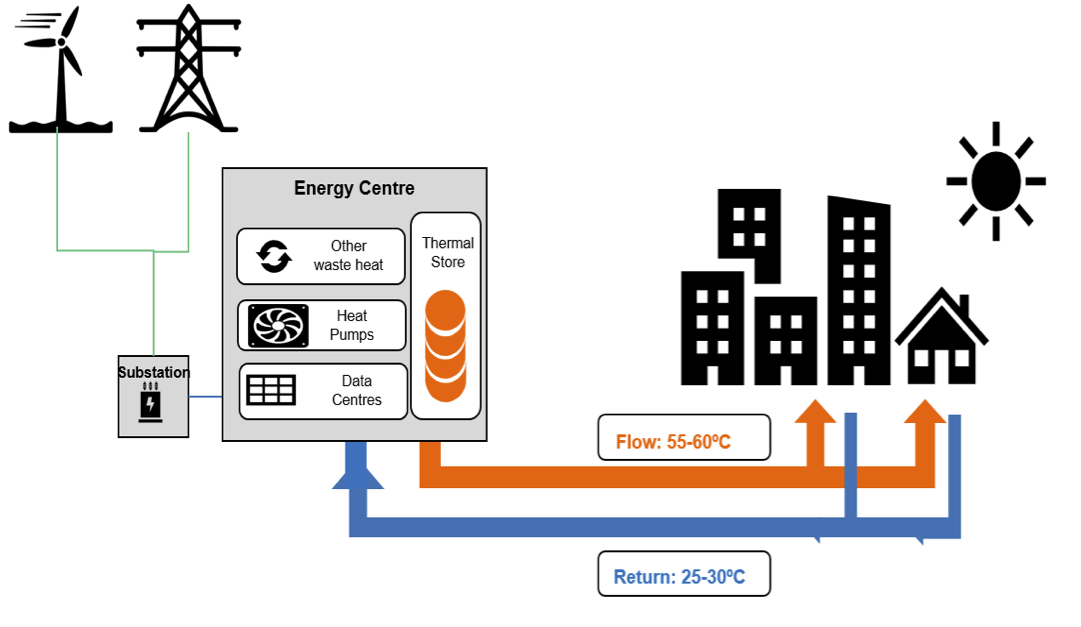 The move from 3rd generation district heating towards lower temperatures is vital to ensure systems are future-proofed and will offer decarbonisation of energy in future.
Where there are mainly heat loads on the development our approach is to install 4th generation heat networks with supply temperatures reduced to about 50-60 °C. This allows harvesting of waste heat available often through heat pumps or other, collecting waste heat from data centres or other processes, which is available and more efficient at temperatures around 50°C. While this is more challenging for existing building stock, for new area developments this would be a minimum requirement.
Where heat and cooling loads are in a balance, an opportunity arises to implement an ambient temperature system. This completely changes the traditional approach for district heating and cooling networks – there is no central plant, there are no central pumps, and there is no flow and return pipework. Instead, the controls are moved to a building level, including circulation pumps, and multi-directional headers with seasonal storage are used to provide the balance of the system.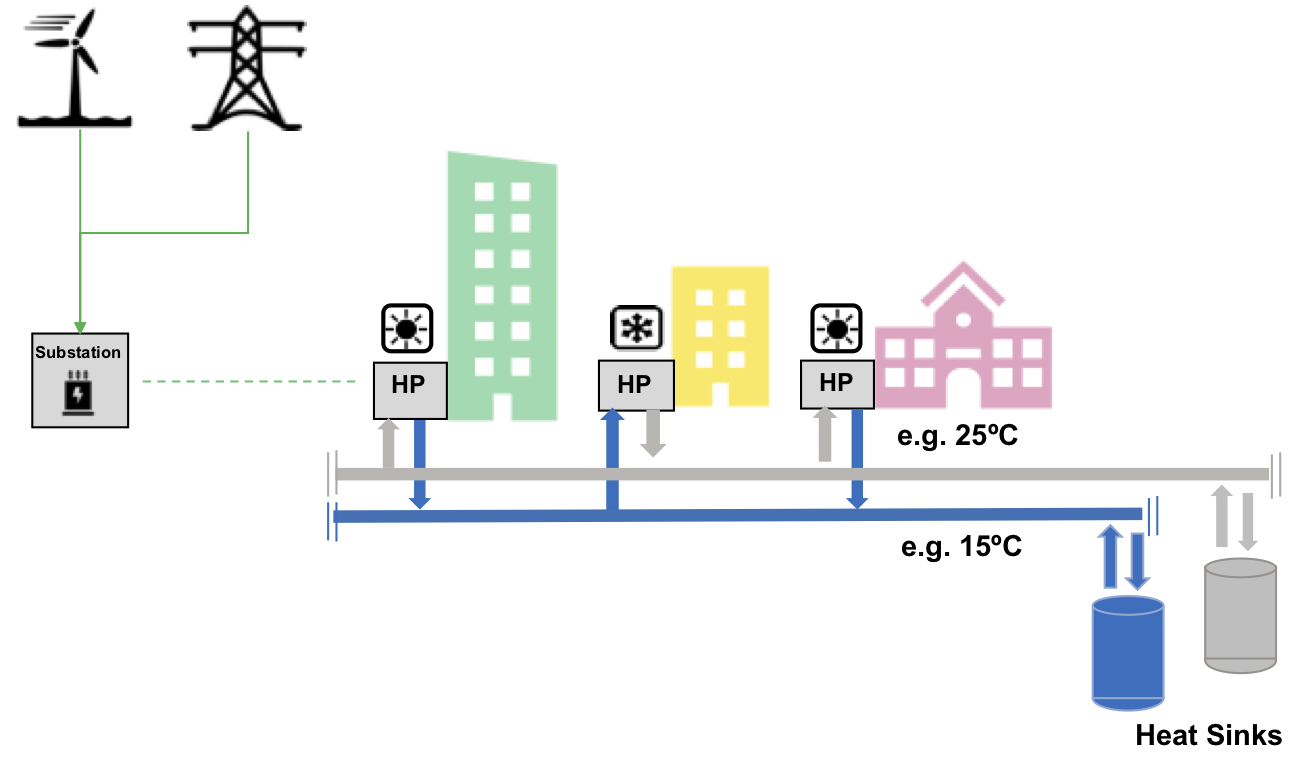 This system is a perfect example for electrification of heating and cooling, offering a solution to many traditional challenges that heat networks face – no requirement for a large centralised plant, therefore the system is expandable, each building can operate at different temperatures and have a different setup. As this is operated at ambient temperature, pipework does not have to be insulated and two pipe/header system can be used to provide heat and cooling. The network in the buildings should ideally be low temperature (following 4GDH principles) for heating, to ensure the heat pump operation is more efficient than counterfactual air source heat pump system.
While this concept is not new, the successful implementation will require a new design approach, new technical standards, different skills for the supply chain and different operation standards.
The transition towards 4GDH and ambient temperature systems will require more than just engineering workstream
Firstly we will need to look at our existing design principles and raise questions if some of them are no longer applicable for low temperatures. Here are just a few examples,
Reduction of temperatures offers new opportunities for equipment and materials installed – do we need to follow the same specification of materials? In 3rd generation, we are still using pipework and design principles that are applicable to 120degC temperatures?
Embracing opportunities that removal of gas appliances can unlock – no burning fuel, exhaust flues, no air quality issues
Embracing the opportunity to integrate, multiple energy centres and providing back-up through this approach
Incorporate grid balancing opportunities through heat pump + thermal store arrangement in the strategy

This also will put further emphasis in closing out technical debates that are absolutely important for these systems to achieve their intended performance:
Reduce final customer temperatures, especially for new builds
Develop technical standards and requirements not only for design but also for commissioning, operation and maintenance
Engage with the equipment suppliers to enable
Move safety cautious standards from gas to the refrigerant treatment
Use appropriate counter factors that allow low/zero carbon solution to be compared to alternative carbon solution including the benefits a heat network delivers
Prepare skills to enable delivery and support of such systems.
Work together as an industry to provide a smooth transition towards zero carbon heat
To ensure we have a solution that is fully viable, we need to provide confidence that it is developed in detail and all stakeholder concerns are addressed. Moreover, the supply chain (delivery, equipment and O&M) should be engaged at early stages of the transition, this will mitigate any surprises further down the line.
Knowledge sharing and industry working groups will be crucial to ensure risks are mitigated. Lessons learned from case studies in the UK and Europe will also be the key driver to ensure solutions can be implemented at scale.
We were extremely privileged to lead the conversation with so many of our industry colleagues this week and look forward to collaborating more in the (fossil-free) future.
Written by
Ruben Vos, Project Development Engineer