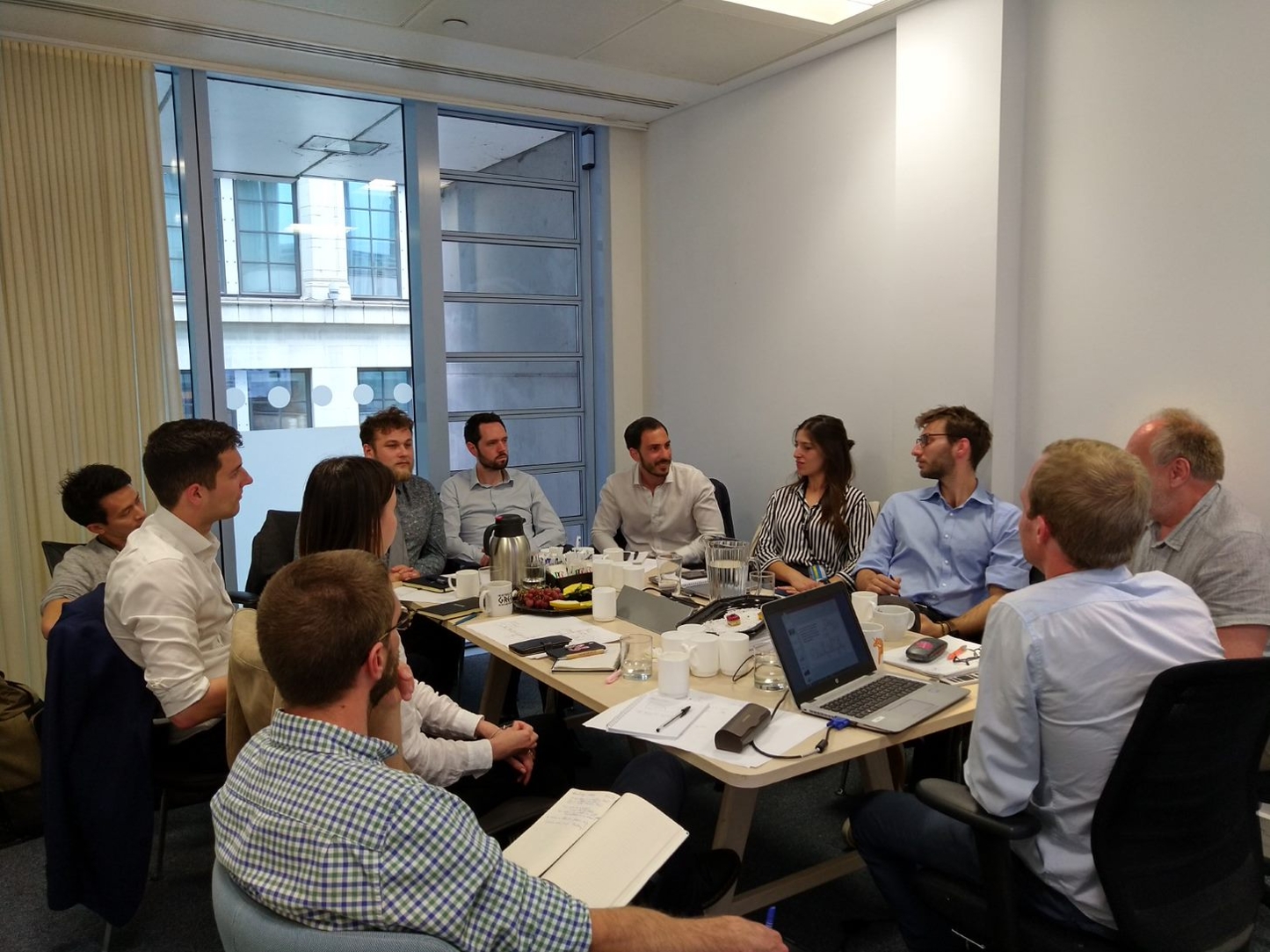 Story
June 24, 2019
4 min
From centralised fossils to decentralised renewables
On 18 June, Vattenfall Heat UK organised a workshop about the feed-in of decentralised heat sources in a 4th generation heat network.
Besides our own engineers, we also invited design engineers from L&Q Energy, Burohappold, Sweco, Vital Energi, Arup and WSP to join us for this workshop. We had Gunnar Lennermo from Energiealys AB as our guest speaker for the workshop. Gunnar has more than 20 years of experience of feed-in from decentralised solar thermal installations into large-scale Swedish district heating networks.
Why this workshop?
Vattenfall aims to deliver a fossil free living within one generation and believes in 4th generation district heating (4GHD) as one of the solutions to provide low carbon heating. With its temperatures below 60 degrees, 4GDH is ready to adopt waste heat sources as well as environmental heat sources with or without heat pump technology. In contrast to fossil fuel heat sources, it can be a challenge to concentrate all these heat sources within the same plantroom. To harvest all these low carbon heat sources and incorporate them into our heat network, we might have to step away from centralisation of plants and transition to a more decentralised production of heat.
This raises questions around hydraulics and controls with it. Furthermore, we need to be confident in finding a robust solution for these challenges before we apply this in a heat network. Gunnar Lennermo from Energianalys AB, came to London to teach us the do's and don't's of feed-in of decentralised heat sources.
Feed-in of solar thermal in large-scale district heating: lessons learned
During the first session, Gunnar took us on a journey through his 20 years of designing, installing and commissioning feed-in of solar thermal installations into heat networks. We learned that the Swedes actually started with solar thermal as a heat source for district heating before the Danes did so. However, the approach was different - where the Danish DH networks were deploying centralised solar thermal as a solar field at the energy centre, the Swedish DH networks were deploying solar thermal decentralised on the roofs of the customers. As a consequence, the Swedes were forced to find a solution to feed-in this decentralised heat into the local heat network. It's at that point where Gunnar became involved and found a robust solution for this engineering problem in 1999. Since then, he has worked on multiple solar thermal projects and finetuned the solution further.
This is what we learned from the session:
Keep production and consumption separate from each other at those prosumers. The return to supply is the preferred solution out of the other 4 types of feed-in (return to return, supply to return and supply to supply) because this results in making the heat readily available for other consumers to use. Return to return could be an alternative where the supply temperature cannot be met by the decentralised sources but this heat cannot be used directly and results in a higher return temperature in the network, increasing heat losses and decreasing production efficiency of the central plant.
The design and control of the feed-in pump needs to be able to overcome the differential pressure of the district heating network at the point of injection, which gives a completely different characteristic to the pump.
The use of two different set-ups for hydraulics and controls: flow control and temperature control. The flow control is slightly easier but cannot always guarantee a stable supply temperature when the decentralised heat source requires a fixed delta T. As a solution, the temperature control can overcome this.
Decentralised feed-in within Hysopt software
For the second part of the day, Jonas Cleiren from Hysopt joined our workshop and showed us how feed-in of decentralised heat sources can be designed and modelled in the Hysopt software. Jonas showed us examples of different ways to inject heat into a network from decentralised heat sources. During the modelling of these examples, he found some insights about different hydraulic set-ups and control strategies. It showed how small differences could make an immense impact on the actual performance of this system.
Hysopt has only recently started exploring this functionality within their software so we concluded that Gunnar should spend some time with the Hysopt development team to build Gunnar's experience into the software to expand the inspiration library for others to use. This would be a great way to spread Gunnar's knowledge before he retires.
Final thoughts
At the end of the day we took some time for Q&A and all the attendees took this chance to fire loads of questions to Gunnar. Some were related to specific cases or projects, others were related to the complexity of this topic. My personal highlight was a discussion about how to value the feed-in of heat. We defined a clear difference between heat sources being available on demand whenever it suits the heat network and other heat sources injecting heat whenever it suits themselves. Whilst both are valuable, a difference could be made. Another interesting discussion came up around the dispatching of different heat sources where we could potentially look at the electricity market and their auction principle.
The vast amount of questions and discussions continued over a pint in the nearby pub, nicely illustrating that we've touched on a very relevant and interesting topic with this workshop. Personally, I'm very satisfied about the workshop, thanks to a good group of genuinely interested engineers. The overall conclusion was that we should do more of these.
At Vattenfall, we're full of cool ideas so expect some more of these sessions in the near future, but we are also waiting impatiently for an invite from one of our guests about this or other interesting topics which help us building a fossil free future!
Written by
Ruben Vos is Project Development Engineer and has been working in low carbon heating for 6 years.