Looking for our heat customers site?
Midlothian Heat Network
Bringing Scotland's vision for low-carbon district heat to life.
Scotland aims to reach net zero carbon emissions by 2045. Vattenfall now sits right at the heart of that ambitious strategy, thanks to the creation of Midlothian Energy Limited - a 50/50 joint venture between Midlothian Council and Vattenfall Heat UK. This partnership aims to invest £100 million in low-carbon energy projects, including heating, over the next 5 years.
The first district heat network in Shawfair, a town on the outskirts of Edinburgh, will harness energy from a waste facility at Millerhill to supply heat to around 30,000 homes, education and retail properties from 2024. The project is expected to save over 2,500 tonnes of CO2 per year - the equivalent of taking 1,200 cars off the road.

Our modelling suggests the heat networks in Midlothian alone could reduce emissions by up to 90% in comparison to individual gas boilers fitted in every home. Not only that, but waste heat captured and supplied by Midlothian Energy Limited will be more reliable than alternative low-carbon sources.

By 2050, we hope to have delivered city-wide district heating that is capable of supplying heat to the equivalent of 170,000 homes in Midlothian, Edinburgh and East Lothian - creating 900 jobs along the way.

"Our vision for Shawfair is to create a town with a high-level of self-sufficiency, sustainability and a zero-carbon future at its heart. This joint venture has allowed us to turn this vision into a reality. It puts the development of Shawfair town ahead of the game and an exemplar in achieving low-carbon energy for homes, businesses, schools and community buildings. Through this deal we are enabling the entire fabric of the emerging community to benefit from sustainable energy."
– Ed Monaghan, Director, Shawfair LLP
Related news
Vattenfall partnered with SCDI in a forum to discuss the opportunities arising from the installation of Heat Networks across Scotland. Read the report now.
Read the full article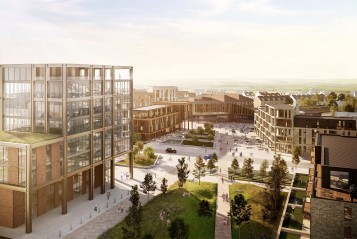 - A 50/50 joint venture between Vattenfall and Midlothian Council will deliver low carbon energy projects across the area. - The first project to be d...
Read the full article